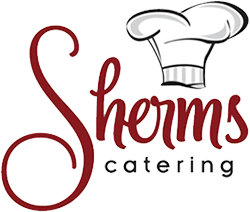 Sherms Catering
(302) 600-1577

About Sherms Catering
As of June 2017 Sherm's is starting their 10th year with a vision of creating the area's finest food and memorable special event experiences at affordable prices. Sherm Porter has a true passion for cooking and has created a team of culinary professionals have continued to "Wow" their customers with amazing culinary creations.
Sherm's true passion has been serving his customers with a great dining experience and he continues to instill that as a core value in the team he has assembled. Sherm's initial mission to only use the fresh ingredients and prepare each dish with an infusion of passion and creativity. The kitchen has exceeded past all goals Sherm have originally created for himself or now his team. Critics have been raving ever since, and guests agree – Sherm's Catering is Delaware's best!
Imagine an affordable event with amazing food, and elegant atmosphere, friendly and professional staff to make your next event memorable. Your pallet will be amazed. We specialize in professional, courteous and prompt service. Wedding and corporate catering, party and event planning – for any event; we're your best choice in New Castle County. Thank you for allowing us to be your Readers' Choice 4 years running!
Sherms Catering is committed to serving only the finest foods made with the freshest ingredients, as well as providing courteous, responsive service. Wedding catering, corporate catering, party and event Catering, and for just about any other occasion, we're your best choice as a caterer in New Castle County, Delaware.